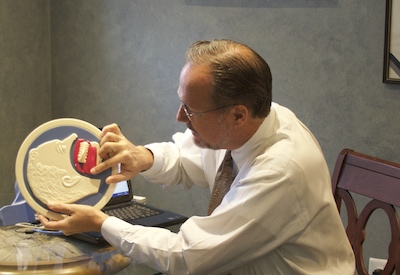 Are you drowsy during the day with no explanation? Do you snore loudly, or wake up breathless in the middle of the night? If so, you may be one of more than twelve million Americans affected by sleep apnea.
Dr. Dennis Stiles is a Diplomat in the American Board of Dental Sleep Medicine
Sleep Apnea – A Serious Medical Condition
Sleep apnea is a condition in which breathing stops periodically during sleep, as many as 20-30 times per hour. ("Apnea" is the Greek word for "without breath.") If you suffer from sleep apnea, each time your breathing stops, the resulting lack of oxygen alerts your brain, which temporarily wakes you up to restart proper breathing. Because the time spent awake is so brief, most people with sleep apnea don't remember it – and many think they are getting a good night's sleep. However, the constant wake-sleep-wake-sleep cycle precludes the deep sleep that refreshes the body, and sufferers are frequently drowsy during the day.
Sleep apnea is considered a serious medical problem and if left untreated can lead to high blood pressure, increasing the risk of heart failure and stroke. The ongoing state of fatigue caused by sleep apnea can lead to problems at work or school, as well as danger when operating cars or other heavy machinery. Sleep apnea can also cause complications with medication or surgery: sedation by anesthesia can be risky, as can lying flat in bed after an operation.
It is important to note that not everyone who snores has sleep apnea, however, if you suspect that you or someone in your family suffers from sleep apnea, give us a call, and we can refer you to a sleep apnea specialist. The specialist may recommend a "sleep study" to diagnose the precise extent of the problem, and can prescribe appropriate treatment. Depending on your situation, treatment may involve an oral device that we can custom-create for you.
Sleep Apnea Patient Registration