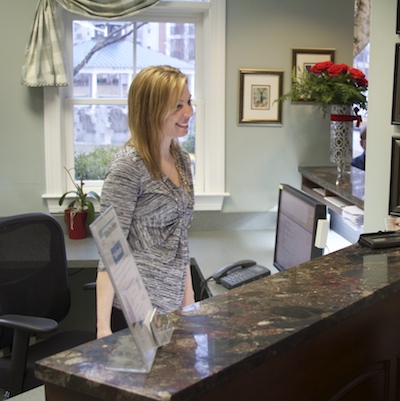 We would like to invite all new patients to experience a thorough evaluation. You are only a new patient once, and we want to ensure that you have the most optimal visit with us. Your evaluation visit will include an examination of each tooth, a review of your medical and dental histories, a gum evaluation, an oral cancer screening, a TMJ and bite analysis, and a smile assessment. Necessary x-rays and study models may be taken.

Our goal is to provide each patient with the highest quality of dental care in a gentle, caring and pleasant environment. Our mission is to help you keep all of your teeth, all of your life, and to enable you to have a mouth that is comfortable, functional, healthy, esthetically pleasing, and is easily maintained through regular preventative visits and good home care.
Consultation
After the doctor has evaluated your records, we discuss any follow-up treatment with you in detail, including the cost for your particular case.
Regular Appointments
Regular checkup appointments typically take 40 to 60 minutes. Patients are seen by appointment only. We make every effort to be on time for our patients and ask that you extend the same courtesy to us. If you cannot keep an appointment, please notify us immediately.
Payment & Office Guidelines
Cost
The cost of treatment depends on the severity of the patient's problem. You will be able to discuss fees and payment options before treatment begins. We have payment plans to suit different budgets, and we will file any necessary insurance papers on behalf of our patients. We work hard to make dental care affordable and to make sure that you realize your insurance benefits.
Fees
In an effort to keep fees down while maintaining the highest level of professional care, we have established this financial guideline:
To fit your individual needs for extensive treatments, financial arrangements can be made to extend your payments over a period of months through CareCredit. To learn more about CareCredit, please visit the CareCredit website.
If full payment is made at the onset of treatment, we will offer a fee discount since no further book-keeping fee is needed.
For your convenience, we accept payment by VISA, MASTERCARD, AMERICAN EXPRESS, and check.
We do ask for payment at the time of service unless other financial arrangements have been made.

Insurance
As an unrestricted provider, Stiles Dentistry is able to offer the highest quality of dental care and attention to any patients who seek care. While we are not participating providers, many of our patients are still eligible to receive benefits from their insurance plans. If you have insurance, we will file your claims electronically for you on the day of your visit. We will always answer all of your questions and do what we can to help you maximize your benefits.